Tomorrow our team departs for a trip to Moldova, a small country between Ukraine and Romania. A former Soviet block country, Moldova is so unknown that when we first started partnering with mission organizations there, spell check still didn't recognize the name of the country.
The only thing to come out of Moldova that you might've heard of is the pop Song, Dragostea Din Tei by O-Zone. It was a internet viral hit in the early 2000's because of this guy's dance. That has nothing to do with our trip, I just thought you'd enjoy a fun fact because things are about to get sobering really quick.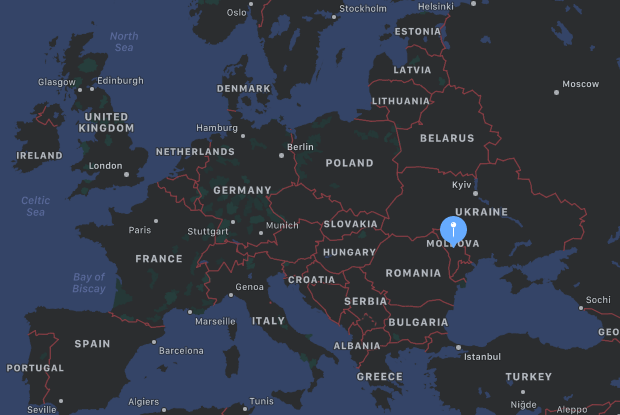 According to last year's statistics, the GDP per capita of Moldova is less than 5% of the US's, making it the poorest country in Europe. Given that, it's not terribly surprising that among its many struggles the orphan crisis at epidemic levels there. Children are often abandoned and Moldovan orphanages have children aging out in their early teens, leaving them susceptible to human trafficking.
Brian and Kathryn Jones are missionaries in Moldova who are members of Frazer, my church here in Montgomery, AL. The Jones were living and working in Montgomery when they started to feel the call to move to Moldova full time after a few short-term mission trips. Since then they've been learning Romanian and have filled several roles while working there including being over a house full of orphan girls. They now are working with a smaller group of girls, helping them finish school and transition to independent living. You can read all about them and partner with them financially by clicking here.
I'm leading a small team to visit Brian and Kathryn and we'll be getting to do a lot of different things; visiting with orphans, packing meals, reading aloud to kids, teaching photography lessons, and helping with a fall festival are all on the itinerary. These are all the more typical "mission trip" things we'll be doing, but as I've been telling everyone the primary purpose of this trip is to be a support to our missionaries on the ground.
Like cold water to a weary soul is good news from a distant land.


Proverbs 25:25
This will be my 14th mission trip, and my 10th international mission trip. Over the years I have come to the belief that the best thing a short-term trip can do is be supportive of the local long-term missionaries. I've been friends with several mission families and I know that the isolation of living overseas can be soul-crushing at times. I say this to encourage anyone reading: visit your church's supported missionaries, and ask them ahead of time what you can do to be an encouragement to them.
I'll be giving updates as I'm able, but please be praying in the meantime for an easy trip and for our team to be able to adjust our sleep schedule quickly.
Comments
comments