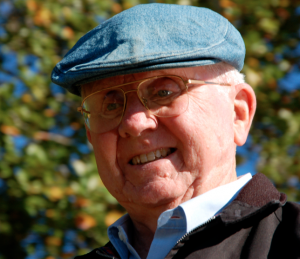 My Granddad Billy "Poppy" Key
I get my first name from my maternal granddad, Billy Key. He's a retired Methodist pastor who is still very well known in south Georgia Methodism. At age 87 my grandfather is still a great blessing to my whole family. This morning I woke up thinking of what a great life he's lead and all the things I've learned from him. There have been many, many great stories that I hope to tell and retell, and many more simple scripture lessons and poems that he's shared over the years through his many sermons.
I think I can narrow it down to three things that summarize what I've learned from him.
1) Always be ready to share the gospel, anytime anywhere.
Long before I even knew it was scripture I would hear my granddad quote 2nd Timothy 4:2
"Preach the word; be instant in season, out of season; reprove, rebuke, exhort with all longsuffering and doctrine"
For many of my growing up years, I actually thought that he was the first one to say that. I didn't realize it was in the Bible – he says it like he owns it. (would that we may all take such ownership over the Word, that it comes out of such conviction)
My Grand Father has never met a stranger and is never afraid to speak the name of Jesus to anyone he meets throughout his day. In today's world the word 'preach' isn't very cool. We think it sounds dictatorial, dogmatic, long-winded or boring, but we're told in scripture to preach – and Billy Key is never afraid to 'preach' even if its just a few words of truth to the clerk at the grocery store.
2) Always be grateful for what you have and what you are given.
He has always displayed an attitude of thankfulness. Still today, he's very thankful for any small everyday blessing that friends and family offer him – the kind of things that many of us would take for granted. Many times at thanksgiving he reminds us of an story of a woman who would say before every meal 'Much obliged for the vittles, Lord.'
When he was a young boy in Adrian, Georgia, he was walking out of Church with his family one day and it was particularly beautiful outside. He turned to his mother and he said "Isn't this a great world we live in?" and that sense of wonder and joy at the simple blessings has never left him throughout his life.
To this day he begins prayers with "Thank ya, Thank ya, Thank ya, Lord" as a simple expression of how grateful he is for God's hand on his life.
3) And finally, bless the socks off of everyone around you.
My granddad is a blesser. He blesses people. We throw the world 'blessing' around a lot in churchianity and I think it looses its meaning, but what I mean by this is literal and intentional spiritual blessing passed from one person to another.
I hope that every one of you is fortunate enough to receive a Billy Key-style blessing in your life, if not from him, then maybe from someone else. He often grabs hold of you – by the arm or the shoulder. Then he stares at you right in the face and he addresses you. "Will" he'll say, "You have been blessed with a great many gifts and the Lord is with you. You're a capable young man. We're proud of you and what you're doing and we're excited to see where the Lord is leading you!" Then he'd give me a big slap on the back and smile. Other times he'll just grab you and quote from Numbers Six
"The LORD bless you
and keep you;
the LORD make his face shine on you
and be gracious to you;
the LORD turn his face toward you
and give you peace."
Again, much of my growing up years I didn't know this was scripture – he said it so sincerely I could've believed they were his words.
At the very least, he'll walk up to you and grab your arm, pat you hard on the back and shout "Bless ya, Bless ya, Bless ya!" It makes me think of Genesis 32 when Jacob wrestles with God and says "I will not let you go unless you bless me!" If it had been Billy Key, he would've said "I will not let you go unless I bless you!" He does it so easily, its as if he doesn't even have to try.
Furthermore…
Over the past several years, my Granddad, who I call "Poppy" has preached fewer and fewer sermons. And when we get together as a family he doesn't speak the same homily that he used to, but he still says one thing. After the Thanksgiving, Christmas or Independence Day celebration has ended, and all the grandchildren and great grandchildren are sitting in wake of a big family meal, Poppy stops and says this simple poem. Written by the Georgia poet, Sidney Lanier (who lived in Montgomery, AL for a few years), this little poem has become a treasure of my family's. I think it sums up the kind of faith that Billy Key Has.
I know not how such things may be
I only know He speaks to me.
Not through the grass nor through the sod
but in my heart the voice of God
Speaking spirit unto spirit,
and if I listen I can hear it.
Voice of God that speaks to me
out of His infinity.
I called my grandad and asked him to recite it to me so I could copy it down and he was over joyed – upon finishing it he paused and said "There it is, its yours for the rest of your life now." I couln't've have ask for a richer inheritance.
These things have been a blessing to me, may they be a blessing to you.