If you're not letting the rocks cry out or donkeys speak to you occasionally I think you're missing out, because it happens to me all the time.
How it started for me:
When I was a kid, like most children who grew up in a Christian home, my Mom was concerned about the kind of media I consumed. She wanted to be sure that the TV shows I viewed, video games I played, and movies I watched were at least somewhat consistent with a Christian worldview. The problem was both my parents were working full-time by the time I was four and I was a fourth child ergo Mom didn't have the time to sit and watch every cartoon with me or sit as I played through all 40 hours of The Legend of Zelda.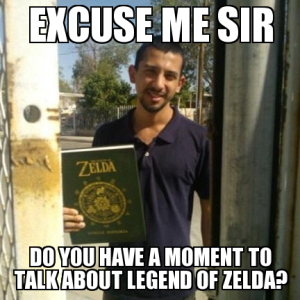 As such, if my mom came in from play practice and I was watching a show, instead of freaking out and telling me to shut off the TV (ok she did that a few times too) she would usually put it to me to explain why I thought this show was ok. She would ask me to explain it. I soon realized that if I was going to be allowed to watch TV I had to start looking at the deeper meaning behind the media I was viewing. So I quickly learned to identify the good, the evil, and the values being espoused in a narrative. That's where it started with me, as a child who wanted to watch TV and play video games.
Now…
The most recent step in this process for me came this past spring when I was taking a class for my MFA studies called Motion Picture Theory and Style. We did a lot of discussion of "film as text" and how to "read" a film. In the middle of this rather lofty, graduate-level class I had to write a lengthy paper analyzing the work of a director discussing his style across at least three films. (explan-a-brag incoming) When my professor returned my paper she commented that it was clear that I was far advanced in this area. It wasn't until recently that I realized that it was because I started analyzing TV shows as a kid that now I was viewing everything as a text to be read. Suddenly I'm a good student, because I've been studying for this most of my life.
Beyond the academic analysis and using words like "formalism" and "intertexuality" even in my papers I have to subtly note when I see a figure who shows sacrificial love, as well as portrayals of good and evil that are consistent with a Biblical worldview. Still today, I'm looking at popular media to see where God's truth is. It's like a treasure hunt, a game I learned as a child that I see as more important now than ever.
Still there's the question of Scripture, what arguments could be made, looking at the whole of scripture, for the importance of seeking truth in popular media? I believe there are several to examine.
The Word
When turning to scripture, I try to avoid developing a belief system and then looking for verses out of context that, when combined, support my position. At the same time, I can't totally avoid seeing God's truth played out in the larger world and then seeking confirmation in his Word, while at the same time realizing that if the confirmation isn't there, I might be missing something.
To me the first evidence that media matters to God is in the Gospel of John verse 1:1.
In the beginning was the Word and the Word was with God and the Word was God.

John 1:1
This scripture was brought alive for me recently over and over again as I traveled to the lands of the New Testament with Tom Wright. Every time I asked for a sound check with him he would quote this passage, often times swapping to the original Greek.
What does this have to do with media? Well, the Word was the first medium, the original means by which truth was communicated, and one of God's three persons was and is characterized as being both that medium and its message. The Word, John goes on to say, became flesh and dwelt among us. Jesus Christ was the Word before he was Flesh. That to me says that God cares deeply about the media through which his message was communicated, the most important one, of course being Jesus and the second most important one being us, that's why he became human, but before he did, he was first The Word.
No, I'm not saying that the Holy Word of God is somehow equivalent to every other form of the various media out there, but I am saying this: God the father is often said to be cosmic and indescribable, the Holy Spirit is often compared to elements in nature like water, fire and wind. But other than human titles like Warrior, King, Brother, Master, and Lord – the object lesson we're given for Christ is him as "the Word."
The word used for "Word" there is "logos", and it is where we get the English word 'logo,' a visually distinct identifying mark. It is often also translated as "plan" or "reason" and it is used by philosophers as shorthand for all of life's meaning and purpose. When we examine a film for the Biblical narrative, we're looking for that Logos.
Whatever
Paul uses this word three different times in three different books and when you hear it, know that Paul means everything, and I believe that we should include the media we consume with that.
Whatever you do,
Whatever, meaning everything, should especially make our ears perk up when we read the scriptures.
And whatever you do, whether in word or deed, do it all in the name of the Lord Jesus, giving thanks to God the Father through him.
 Colossians 3:17
This is a popular passage and for Good reason it seems to cover a lot of ground, but if you don't read the rest of the Chapter, especially the first sixteen verses leading up to this you might miss how exactly Paul says to "do it all in the name of Jesus." Paul lists off all the sins that the church members in Colossae used to participate in, and says they're no longer part of that life. Then he says to do everything in the name of God.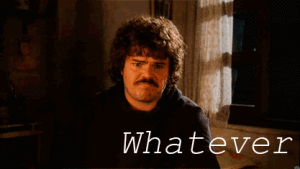 Whatever you Consume,
Next in Corinthians Paul says this:
So whether you eat or drink or whatever you do, do it all for the glory of God.


1 Corinthians 10:31
This context is pretty interesting, Paul is responding to concerns about eating food that may have been used for sacrifice to Apollo. I was recently in Corinth and part the temple to Apollo there is still standing, as well as a nearby market entrance – it was likely that people would go and buy animals there, take it to be used as a sacrifice to Apollo and then bring it home for dinner. Obviously this concerned the early Christians who might be served this meat, unknowingly  eating something that was intended for the worship of another God.
In the passage Paul basically says not to worry about it, as long as you are doing it to God's glory it doesn't matter if it was intended as a pagan sacrifice.
This speaks hugely into the way we view secular media. We find these various popular narratives and we ask, should we even engage with this? I think Paul would say yes, as long as you can do it to God's Glory – whether in word or deed, whatever you consume – do it unto God.
I should point out that in Corinthians he does say that if you know for certain that a particular meat was used as sacrifice to Apollo, not to eat it to be a good witness of your faith. I do feel like Paul would say that anything you know a show or movie is definitely made to worship a false god, you shouldn't consume it. You're not going to find a Christ figure in 50 Shades of Gray.
Whatever is true,
Finally, for me the simplest filter for me as a question of whether I should be participating in any popular narrative, is in Philippians chapter 4.
Finally, brothers and sisters, whatever is true, whatever is noble, whatever is right, whatever is pure, whatever is lovely, whatever is admirable—if anything is excellent or praiseworthy—think about such things.

Philippians 4:8
If you can't find truth in it, then it isn't worth your attention. If it isn't pure then it isn't in God's will. If it isn't admirable, then don't waste your time on it. That's the standard that has been set for you. Don't stoop to anything less.
 Three approaches
There are three approaches that Christians can take to secular media. Only three – meaning that whether you intend to or not, you have taken one of these views.
Compartmentalization
If you've never given this any thought, then it's likely that you've been compartmentalizing things. Compartmentalizing is placing boarders between your faith and the other parts of your life. You may have learned that your faith needs to be at work in your family, that it should have an impact on your work life, and obviously you'll be thinking about it most during church events. If you're like most Christians, you probably haven't given much thought to how your faith should be at work in the entertainment you consume.
To be clear: this is about more than sex, language, and violence – this is about the truths and worldviews that you are allowing to enter your mind week after week as you sit in front of your TV, watch a movie, read books, or surf the web. Some of the most truth-filled programming may contain violence, occasional foul language and perhaps even some suggestive material (though I'd be cautious of that because it is the one we're told to flee from in 1 Corinthians 6:18.)
If you are a regular consumer of media (watching approximately 30 hours of TV a week and going to a movie about every two weeks) and you've never quit watching a TV show or walked out of a movie because you felt convicted, then it is likely that there is some compartmentalization going on. If you've ever clicked the "Private Browsing" option on your phone, Tablet or PC – then you're definitely compartmentalizing your faith away from the media you consume and that is never God's best for you.
Rejection/Protest
In some ways, this is the one Christians are most known for, even if we more often compartmentalize our faith, Christians are thought of as people who vehemently oppose pop culture. Though this has and is changing, as Hollywood has seen that Christians are a market and creating stories that are respectful to our beliefs will behoove them at the box office. I hate that people think this of Christians, but at the same time there are things we need to reject, as I talked about in my entry about my three rules for watching movies*.
This one is more complex, because whereas compartmentalization is always wrong, rejection is oftentimes right, though if you always choose this approach then you'll likely miss out on some of the blessings God has for you. Taking that "Rejection View" obviously means that you take the view that says 'because much of, or most of the various forms of popular media are not God-honoring I will not participate in it.' And of course, that's based on a very, true, truefact™with which all of us can agree, but that doesn't mean it's the whole truth.
There are times where we have to take this position; parents need to reject some media from their lives to protect young children. There will always be things in the media that we need to protest and say 'That is Wrong!" when we see it depicted as if it were right. Young Christians, upon first coming to Christ may be in need of a 'cultural cleanse' where they remove themselves from the larger culture and immerse themselves into the word, similar to Paul's seven years in Antioch, studying the scriptures and becoming "the Apostle Paul" who would go on to speak to the Greeks about their own poetry, and understand the scholarship of most of the major cultures in the Roman empire.  It seems clear that Paul didn't stay in this position his whole life, and for good reason; there is a danger to rejecting things indiscriminately and for too long.
While a person who compartmentalizes is definitely being "of the world," A person who totally rejects the culture risks no longer being "in the world." When you're disengaged from the cultural narrative then you loose your ability to speak the vernacular and therefore effectively communicate with non-Christians. This isn't a problem if you have no intention of teaching the Gospel outside of the church, but if you plan on engaging with people who don't already know Jesus, it is important to know the stories they're hearing on a regular basis and be able to use them in such a way that they can hear see Jesus even in the secular media; that the meat that was used to sacrifice to Apollo can be used as healthy food for them.
Finally, if you're not engaging with the culture then it is likely that you're missing out on God speaking to you through some surprising means. Like Balem's Donkey in Numbers 2, or Jesus's warning that the rocks will cry out in Luke 19:40. You don't want to miss the unexpected places from which God will speak because you were determined that God can't use rocks or donkeys.
Appropriation
This is ultimately where I believe we need to all land on this issue. We need to be willing to engage with the popular narrative up to a point such that we can be willing to learn from it, and that we can appropriate it for the use of the Kingdom.
Can this go too far? Yes. I'm not a fan of people trying to shoe-horn every film into some super-specific allegory for the gospel. I love Star Wars. I believe there are Biblical truths in Star Wars. There are truths about anger and fear dominating your life, truths about temptation and redemption, truths about good overcoming evil and truths about the nature of wisdom and choosing your mentors well. But I can say this for sure: it is not an allegory for the Gospel. There are many preachers who have tried to say things like "the Force is the Holy Spirit" or "Obi-Wan is Jesus" or maybe "Luke is Jesus" or "Yoda is Wisdom personified as in Proverbs." Okay that last one might hold water, but for the most part Star Wars cannot be made into an allegory, and when watching it with your kids, I think you need to explain that while "The Force" is cool, it's fictional and largely equivalent to pantheism in the real world, and while it may be similar to The Holy Spirit, it is not an allegorical one to one equivalent. Saying otherwise is theologically dangerous.
Having said this, that is exactly why you should examine the movies you watch, so that you can see where there are both truths and inconsistencies in the stories you're consuming. You should do so with discernment*, looking for areas where it is true and areas where it isn't true, and also understanding that you'll come up with some different answers than your friends. You may have read my review on Disney's Film, Tomorrowland*, but you'll be interested to know that my friend Ken Roach, who I'd say is easily much smarter than I am, took a very different approach than I did on the same film. We have a little debate in the ensuing episode of the mid week mix up
When appropriating, you can find media that can suddenly bring to life a scriptural truth to you personally, as I did while listening to a totally secular (and very not-family-friendly) podcast when I discovered a new way to express my calling as a creative working in the Kingdom, as I explain further in this entry about what I want to hear God say – click hear to read more*. That was something that I totally was not expecting, but I found myself tearing up as I was driving along listening to this actor describe his experience of working with a master director. Appropriating the truths in secular media leaves room for those kinds of wonderful experiences.
Also it gives you in-roads to speak to other people. So this should surprise no one: I once was in a debate with a group of fellow nerds about the nature of God. Some of them didn't like me using the word "fear" in reference to God. I reminded them that it is in the Bible multiple times, and that the word is 'fear' not 'respect' or 'revere' as some believe. They didn't like that – they wanted God to be all feel-good all the time. And I understand that, because when the idea I should fear God was introduced to me, I was bothered too. But aside from the fact that it is in scripture, it just makes logical sense; the being that created the universe, when you see him don't you think you'll be afraid? Why do you think that every time in scripture when the angel of the Lord shows up the first thing he says is "Fear Not" if he wasn't terrifying to the people that saw him? But the debate wore on and I actually was accused of being Pharisaical for using too much scriptural evidence. That's when I realized that these people are not going to be convinced by scripture because they think they've made up their minds. That's when I realized I had to show them that they already knew this to be true in the stories they love. So I posed this:
Let me put it in a way perhaps more tactile to this crowd: say you've never heard of Batman. You're walking in the street late at night and you see a tall muscular guy lurking in a corner dressed in dark armor and a cape, you'd probably be afraid, right? Then another guy with a knife comes out of no where and batman jumps out at him- knife guy didn't see batman before and now he's terrified and you'd be thankful. You'd love batman, you'd do anything for batman. In the end it doesn't matter what we think God is, what we want God to be, what kind of God we'd run to. Scripture is clear on multiple occasions: it's the fear of God that is the beginning of wisdom, love comes after that. Also this is why God sent Jesus, so we do have a person of God we can chat with, identify with, run to, etc. but that doesn't make God any less powerful. God installing fear is a good thing for us, because he's on our side. . . but Fear is only the beginning. 1 John 4:18 says perfect love casts out all fear. But there has to be fear first to fully understand that love. I'm totally about God's Love and mercy. That mercy, however, is cheap if we think that God isn't also righteous, Holy, and powerful. All I'm saying is it is not out of God's character to do things that may seem unpleasant to us, even violent- but it's the fact that he is capable of such that makes his love more amazing, and frankly far more comforting; in the battle of Revelation, I'd much rather take sides with a God I can fear.
Suddenly I had their attention. I had demonstrated a scriptural truth using a comic book character. Now theologians much smarter than me can debate the exact accuracy of the metaphor, but the point remains. It was Batman that ended the argument. That was all it took – It was Batman that put it in a place where they could understand. Yes scripture has to be paramount as the standard by which all stories are judged, but often the easiest way we can get the truth of Scripture through to people is resting in the the stories to which they cling.
How?
The process of watching a movie to look for God's story is different for different people, that's why Ken and I often come up with different readings from different films. You may look for the Christ figure, the higher power, the values, or the depiction of good and evil. But if you want to start doing this for yourself, I think it comes down to a few things:
 Know scripture. If you don't already have a consistent and full foundation of Biblical knowledge, you need to sit down and read the Bible. Like I've said, you need to give the Holy Spirit a vocabulary. You're not going to be able to read films for what they're worth if you haven't learned the story for which you're looking.
Look for scripture's story. Once the stories of scripture are written on your heart then you will likely begin to see the stories everywhere. Much in the same way that binge watching a TV show makes you relate everything that happens in the following days to that TV show, immersing yourself in the Biblical narrative will allow you to see when it shows up in the popular narrative.
Talk about it. Find someone else and discuss your thoughts – ask questions, debate if you disagree, and use it as a way to get to know each other and more importantly, get to know God's story.
Wrap it up already
To me it comes down to the simple fact that any given medium in itself is just that, a medium, and while the medium does say a great deal about the message, it doesn't change it's meaning. As long as we're clear on scripture then things will be clear to us. And if there's one takeaway from this it really should be that reading and understanding the scriptures will give the Holy Spirit vocabulary in such a way that will allow God to speak into your life in ways that are often surprising and powerful. He might use rocks, a donkey, a profanity-ridden podcast, a comic book character, or any number of things to speak to you, but he will only speak if your hear is prepared to hear from him.
I love this clip from the 1939 version of the hunchback of Notre Dame because it shows the tension of the transition from the old way of communicating the gospel to the new way, but in a much earlier time. I love the bishop's words as he looks at the cathedral and considers the power of the printing press. Also notice who in the scene takes a "rejection" approach and who takes an "appropriation" approach. It's only three minutes.
Don't miss that last part – this was the old way, the printing press is of our time. Then know where the printing press used in that scene sits today; in the lobby of the Asbury University commuincation arts building where students are taught about film, television, graphic design, and interactive media. Just like the cathedral of Notre Dame represented the old form, now the press does and it sits as a symbol of the passing of the torch from one generation of story keepers to the next.
If you haven't watched it yet, this past Sunday I had the honor of sitting in on a discussion as part of the message at Frazer, to discuss the importance of Story and how it is at the core of who we are. If you missed it, it covers some more ground around the importance of story as well as some of what I've discussed here. If this topic interests you I really recommend  you check it out below. Also think about hopping over to my friend, Ken's blog. Where he talks about many of the same topics.

So what do you think? Where do you see God at work in popular media? Comment below!
*shameless plug to get you to go back and look at old entries
Comments
comments