The Team: Billy Pope – photographer, Josh Brewer – interpreter, Lori Mercer – photographer, Diane Klaaren – Assistant, Myself, Butch McPherson – director of missions, Nick Drollette – Photographer
As some of you know Frazer, my church and place of employment is currently partnered with 410 Bridge to help house, educate and disciple the deaf community of Haiti. We're also now working with Mission of Hope which miraculously helped us find land free of charge for the deaf community in exchange for our partnership with them to provide spiritual development for an entire community of Haitians, both Deaf and hearing. You might be interested in reading the posts from my first trip to Haiti to hear were we were back in april, and then check out this video to hear the most recent update from Kyle Reschke, our missionary on the ground.
This is my second trip to Haiti and my first Help Portrait event – What is Help portrait you ask? Well you can visit their website for more detailed information or you can simply check out this graphic:

And this is what we're going to do for the Haitian Deaf community. Frazer's November mission team to Haiti will arrive in Port Au Prince tomorrow morning. We've got three pro photographers and myself (an enthusiastic hobbyist) as well as a couple of people to assist and an interpreter for the deaf. We're going to take high quality portraits of each family in the community and return in december to give them their photos, matted and framed as a christmas gift from Frazer. It'll be the first picture they'll have to hang in their new homes. Many of these people have had photographs taken of them, but they've never had a portrait of their family that they could keep. For some of them it may be the first photo of themselves they ever owned. But more than the photos we just want to love of the deaf community. Relationship building is always the number one goal of these trips and we're hoping that through those relationships we'll see more and more people in Haiti – deaf and hearing – come to know Christ.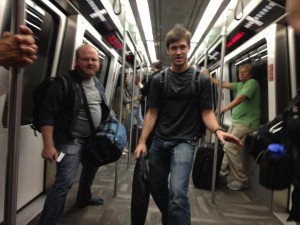 Today we traveled to florida and took a few moments to get to know each other and talk about how we're going to be working as a team over the next few days. It's a tall order to get high-quality portraits for over 150 families over the next three days, but I believe this group is up to the challenge. So far our team has really enjoyed hanging out – just check out their Facebook pages for some of the fun pictures from today's day of travel.
We're all very excited about tomorrow and the team is very appreciative of the support we've been shown on Facebook today – lots of people are praying for us and that is a huge encouragement. We're hoping that more than giving them great portraits that we'll get a good opportunity to relate to the community. You can be praying for us in several ways: That the language barrier isn't a barrier, that we're able to use our time there wisely and that the weather holds out so that we can get portraits of the whole community.
Further reading:
-You might be interested in reading the posts from my first trip to Haiti
-You can always visit Frazer's Mission Blog and Transformation Blog to read about the progress of this and other projects.
-To get closest to the action visit kyleinhaiti.com to hear from Kyle Reschke, a good friend of mine, and Frazer's missionary in the field in the deaf community.
Thanks for your prayers and if the internet connection cooperates I hope to be writing you tomorrow evening as well.