There's a story in Haiti – we're not sure it's true, but it seems likely – that in 1804 the Voodoo leaders of the Haitian people sold Haiti to the Devil for 200 years. They were at war with France for their independence and it seemed like they had no way of winning since they were a tiny country in the Caribbean and France was a large military force, so the only way that their leaders knew to help was to make a deal with the Devil – to sell their nation to him to 200 years in exchange for victory against the French. Well, it worked. The French agreed to make a settlement and sell their financial interest in the land to the nation of Haiti.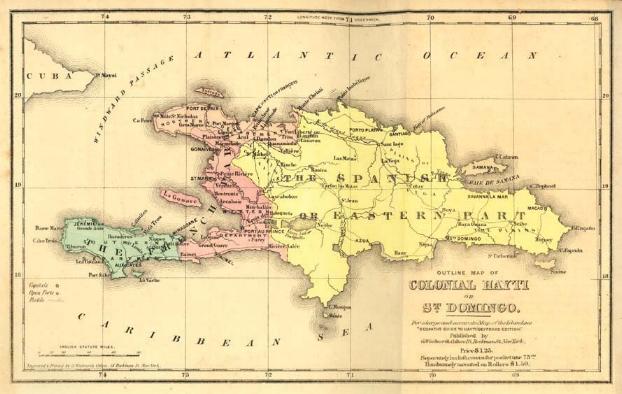 If you're not familiar with what happened in Haiti from 1804-2004 it is a bloody and horrific history. Scanning the wikipedia article on Haiti's history will tell you there were multiple coups – resulting in the death of thousands of Haitians in pointless political power grabs. It ended in 2004 as the US assisted the Haitian president Aristide escape the country. By that time the Haitian people had been in a cycle characterized by a Miami School of Law Study as 'a disturbing pattern.' At that time the UN, with all it's faults, came in and began to keep the peace in Haiti. A rumor began at this time that the Voodoo leaders were meeting again. They they were thinking about renewing their lease with the Devil – to save their nation from it's unrest. Christian missionaries gathered and prayed – praying that they would not do this again and somehow they never did. Weather it was the obvious fact that they had been no better off with the Devil's help or it was truly just the influence of the Holy Spirit, they did not hand Haiti back over to the Evil One. So for the first time in 200 years Haiti had the option of freeing itself from the tyranny of Satan.
However, men love darkness because their deeds are evil. The violence continued essentially until the infamous earthquake in 2010. The death toll is impossible to ascertain; numbers range from 50,000 – 300,000. In Haiti's checkered history never has one event effected the nation to it's core like this event did. As terrible as it was, it served as a wakeup call to the remaining Haitian people. Since then, they have elected a new president and over the past year he seems to have been working toward improving the living conditions of his people. It seems the healing of the Haitian people can finally begin. I see the earthquake as a natural evil that Satan would have used for ill, but God is using it for good. It is awesome, encouraging and humbling to think that we're on the leading edge of an effort to take back the nation of Haiti for the glory of God.
Now, to return you to this trip to Haiti.
Friday morning we headed out to the Leveque deaf community one last time. The whole day was bittersweet since we knew we all had to leave the following morning. After meeting up with Mackenson, Kyle had some phone calls to make and we still had a few small details to finish on the house we were painting. DC and Woody worked on the house while Keri and Elizabeth met and talked with Bertheed, one of the deaf leaders, the only woman on the leadership council in the community.
I took the opportunity to walk around the new community taking pictures and video and relating to the members of the deaf community. Everyone I met recognized me from past trips and smiled and hugged me, asking if I was well. In turn I greeted them warmly and asked them if they knew that Jesus loved them. Many of them said "Thank you." or a simple "Yes."
After a few moments I realized I had no idea where the girls had gotten to, but it didn't take long to find them. I just had to listen for the only house where there was talking – it was easy to find. When I got there, Keri and Elizabeth were talking to Bertheed about the Earthquake. She was expressing how much she didn't understand the earthquake. She asked if God was angry with Haiti. Elizabeth and Keri assured her that God wasn't angry at them, but that he was able to use the tragedy of the earthquake to bring them closer. She seemed relieved that we didn't think God was angry with Haiti.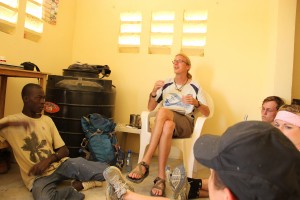 After the girls spent some time discussing life with Bertheed we walked over to where DC and woody were putting the final touches on the house we had been painting that week. Once they were finished we came back and spent the rest of the day fellowshipping in Mackenson's house.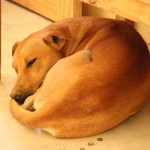 As we sat and talked, one of the deaf leaders commented that Kyle looked like he was sitting on throne. We looked over and Kyle laughed. He was sitting in a plastic deck chair. He instantly sat up and made a funny face. I signed "King Kyle" He signed "I am King Kyle! I am now in change Mackenson is out!" The deaf leaders were laughing really hard as he went on this comedic rant for a few moments. Kyle continued "I will make new rules!" Mackenson laughed and said "Just make those rules fair!" It wasn't until Kyle said that he was going to take Mackenson's dog, Luke, that Mackenson said "Woah – hold on there. You don't get my dog." apparently taking the Dog was just too far.
It's funny to note that Mackenson's Dog, Luke was not responsive to us whenever we tried to call him. He just sat there. Once when we were leaving the community and Mackenson was in the back of the truck with us luke came running after the truck. Mackenson simply held out his hand and after a moment Luke stopped and sat. The dog didn't understand us because his master signs to him. I couldn't help but have an 'awww' moment when I realized that the dog did recognize his master's voice, it was just his hands through which that voice spoke.
We stopped at the same restaurant where we'd eaten all week. As we were trying to figure out who would pray (always a bit of a discussion before a meal on a mission trip) I just started signing a prayer. "God, thanks for this food. Amen." Everybody signed 'Amen.' And kyle congratulated me on my first sign language prayer.
In the afternoon we walked up the hill to where the new church is going to be built soon. On the way there we got stopped by Kyle's Haitian 'mom.' If you ever visit our Haitian deaf community – she is one that you'll have to be sure to meet, she has such a sweet spirit and she vocalizes everything she says so loudly. She's older, especially for a Haitian woman and spends much of her time giggling gleefully. Kyle told us that she was recently reunited with her sister who lives in the house next door. Her sister can hear and doesn't know ASL, but they manage to communicate using home signs and lip reading. They're both older and it was very sweet to hear that they are getting to spend their golden years together in such a beautiful community.
As we climbed the hill overlooking Leveque the team was filled with mixed emotion. None of us wanted the day to end, but when we reached the top it was time for one last prayer with the deaf leaders.
We had one more awesome time of prayer. Where we all prayed silently – those who knew sign language prayed 'aloud.' It's so moving to see the expressive nature with which these deaf leaders pray. Seeing their fervor is stirring.
After the prayer there was a long period where we took photos. Photos of everyone with everyone else. Each deaf leader with each member of the team and then the deaf leaders and then the team and then the team with a few of the deaf leaders. Then the girls with Mackenson and William. Then the girls with just William. And a partridge in a pear tree. But it became evident we couldn't put it off any longer; it was time to leave.
We headed back into Port Au Prince and arrived at New Life just before dark. Dinner was waiting for us – a delicious sort of meatballs and pasta. A few other teams were arriving to begin their trips even as we were preparing to leave. It was fun exchanging pleasantries and finding out what kind of work they were doing.
I had a conversation with a man named David who's been working with an organization in Haiti for several decades. He was really impressed with the work we were doing. He affirmed the importance of moving the Haitian people toward sustainability. Moving them toward self-sufficience. He was impressed with how we were adamant that our ministry be to the leaders who in tern would minister to the rest of the community. It was encouraging to hear how impressed he was. David mentioned that there were many organizations who didn't understand this principle. These NGOs do more harm than good as they just give handouts rather than woking to equip the people with the knowledge to elevate themselves for a lifetime. The affirmation was very encouraging.
Our team time in the evening was brief as we were all very tired, but we all were up and ready to go by 6:30 the next morning. As we waited for the truck to come and pick us up one last time Kyle went around the table and affirmed every member of the team – encouraging each one of us and talking about the areas in which he had seen us all grow during the week. We hopped on the truck and took our final ride to the airport. The ride was full of laughter. We were remembering all the good times we'd had that week.
When we got to the airport I had to separate from the group for most of the day as I was flying back by American Airlines while they flew back via Spirit Airlines. I'm told that they had some pretty fun times traversing the Caribbean, connecting in Ft. Lauderdale and finally landing in Atlanta. I had a few adventures of my own. My Miami layover was only an hour and a half long – which meant I had to go through passport control, baggage claim, customs, rechecking, security, and find my gate in a very short time. Remarkably I made it with time to spare. Ironically, despite my efforts to get to my connecting flight, the plane had a mechanical issue that took over an hour to resolve, so we didn't end up flying out until almost 3:00.
On my flight from Miami I sat next to a Spanish woman. Not a Hispanic woman, but a woman who was actually from Spain. She only spoke spanish so naturally after being in Haiti all week I was delighted to finally have someone to talk to who I could really understand. I made conversation with her as best I could. She was very friendly and I even help the flight attendants understand what she wanted. When I got to Atlanta I originally had planned on picking up dinner, gassing up the car and picking up the others, but by the time I got out to the car I got a text from DC that they had just landed. So I locked the car and just walked back inside where I met the others as they entered the terminal.
Keri honored us with a beautiful rendition of the National Anthem as we stepped outside. I've never been a part of a team that didn't immediately all fall asleep as soon as they hit the car on the way back from the airport. No one fell asleep. We stopped for dinner and were undoubtedly the most obnoxiously loud group there. The last leg of the trip was spent singing, joking and laughing all the way back home to Montgomery. When we pulled up to the back parking lot of Frazer there was a group waiting for us and we were still laughing and singing and enjoying the camaraderie. DC closed us out with one last prayer and we called it a night. The trip was done.I've never been a part of a mission team that got as close as this one. It was nothing short of awesome.
I want to close with this: If you are a part of the Frazer family and if you are at all capable, you need to visit Haiti. I ran into someone this morning who I told needed to visit Haiti. He told me he wasn't called there. I told him he needed to go regardless. I didn't feel 'called' the first time I went. But that trip was enough to give the Holy Spirit a vocabulary in my life such that I was back three more times in less than a year. If I hadn't gone that first time the help-portrait trip would never have happened in November and neither would the december trip where we brought them the photos.
If you have the desire and it feels impossible, God will make it possible. If you know you can do it and you're not sure if you're called. This is the call. You didn't read this on accident. We have trips almost every month this year. In the meantime be praying. Pray for the deaf leaders. Pray for Kyle, our Missionary on the ground there. Pray for God's will to be done in the nation of Haiti. Pray that what we're doing today will have a ripple effect that will effect the whole world.