On wonderful wednesday morning after our devotional and breakfast at new life. Breakfast was an especially awesome rendition of french toast. I guess it was actually Creole toast. Creole toast is like french toast except you don't conjugate the eggs. There was also an oatmeal that was easily the best tasting oatmeal I've ever had. I'd try to describe it, but it's indescribable.
After breakfast we headed out to Leveque. The whole day was spent finishing painting the house that we started on our second day. We had to paint the first coat on one room and put the 2nd coat on the others. DC Cole, the trip's leader was especially eager to finish the job we started. We not only put the first coat on the room we hadn't started but at the end of the day we managed to put a second coat. As with the previous day we got to interact a great deal with the community.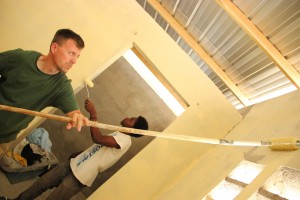 One of the things that we're seeing is that living among Haitians who can hear will be an adjustment for the deaf community. DC spoke with one of the Leveque residents who was baffled that we were talking with Mackenson and Alexis. This unfortunately is a common attitude, we're hoping that we can help the members of the deaf community at Leveque elevate themselves in their society such that the others realize that they are equally capable. If they can do it there, we're hopeful that they can do it across the entire nation of Haiti.
For lunch we headed to the same creole restaurant we went to in Cabaret the day before. This time as we walked in I noticed a chicken was walking around under our table. Later I would comment that I supposed he must be for lunch tomorrow. At least we know its fresh. I made the mistake of trying the hot sauce this time. It was as if my sinuses were a crowded theater and someone shouted 'fire!'  But I accomplished what I wanted and that was to make my meal more of a challenge than it was the day before.
Wednesday I also tried put together a few sign phrases that I hadn't before. After lunch when we were riding back to Leveque, Mackinson was asking some of us if we new deaf people before we got involved with the community in Haiti. We admitted that none of us had grown up around people who are deaf. I managed to sign to him, "But now, we have a big deaf family in Haiti." And he smiled and signed 'cool.' When we got back later on William, the guy who sang-signed for us yesterday, showed up I told him that I want him to come to Frazer one day and sign for everyone there. He told me that I should learn to sing.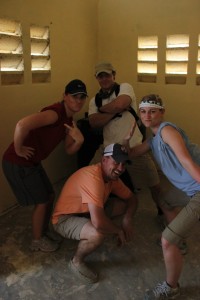 We painted until we ran out of paint. We had to stop for the day when they told us that they wouldn't have more paint for us until friday. We had to leave one room half finished and stop for the day. We headed back to New Life for the evening.
After dinner, we engaged in a lengthy discussion on some future developments in the community. One of the recent changes was that the design of the church at Leveque has been adjusted by a leading architect who specializes in optimizing spaces for the people who are deaf. This means that the sight lines will be improved such that the members of the deaf community should be able to see their interpreter from almost anywhere in their new church home. The discussion was a great opportunity for the members of the team to get clarification on Frazer's role and the hope that one day we'll no longer be involved with the deaf community in Leveque, but rather we'll be able to expand our scope here in Haiti and move onto other projects. After many great conversations we all headed to bed.
I should mention that Woody apparently talks in his sleep at that night DC caught him shouting angrily, "But I'm trying to serve God!" to someone in his dreams. Woody doesn't remember what he was dreaming so we have no clue with whom he was arguing. But it was a funny event.
Thursday was a really cool day. We started off by visiting our friends at Rebuild Globally – an organization that is working to employ Haitians through creative means. They pay Haitians fair wages to make sandals out of trash – old tires and clothes. The sandals are actually excellent and we were able to see their efforts regarding planting a garden and starting a tilapia farm. It's always cool and encouraging to see other groups and organizations succeeding at helping people move toward sustainability. It also is great because it gives us ideas as to ways we can help move our community (and future communities) toward sustainability as well.
After that we headed to Mission of Hope's compound for a bit to drop some things off at Kyle's new apartment. It gave us a chance to see their campus – not all of the team has yet and it's a pretty cool place. Frazer hopes to learn as much as we can from MOH and organizations like them so that one day we might be able to do something similar. Kyle got to have a chat with a few MOH leaders while the rest of us looked around. In the afternoon we stopped by Wahoo bay partially to take a little break partially to celebrate Kyle's birthday. Wahoo is a resort which has a restaurant and beach access. We all took a few moments to hop in the water which was as clear as if it had come out of the tap. The scene was absolutely stunning. Clear water, mountains and a beautiful afternoon sun setting just above us.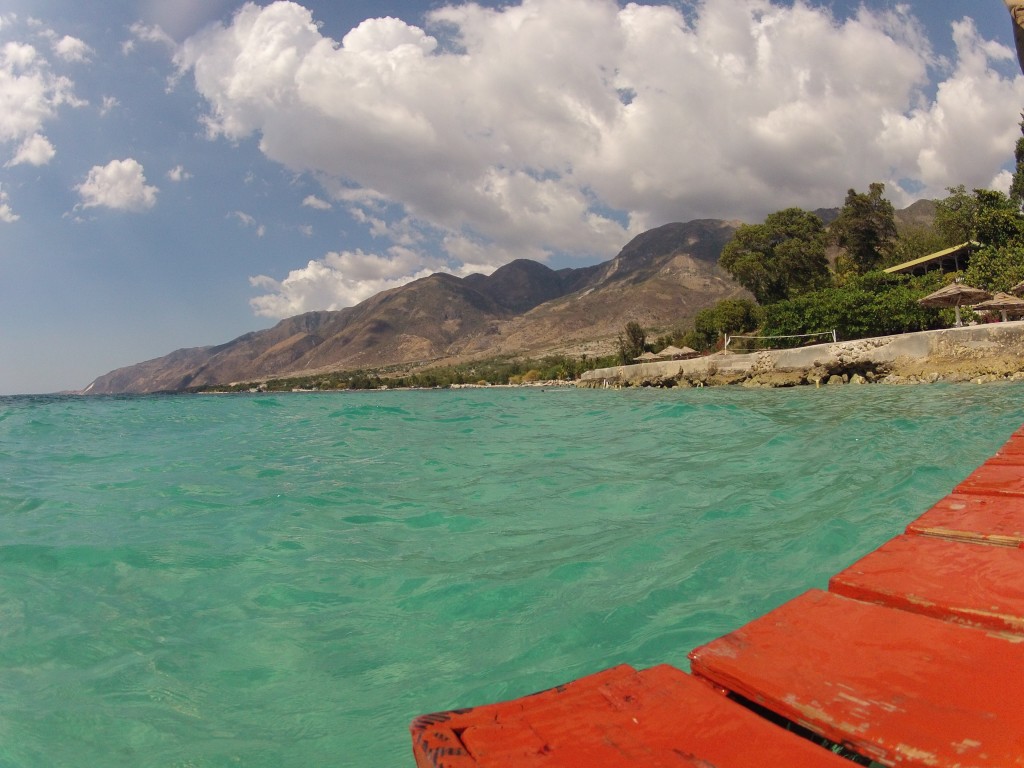 We headed back to town before the sun set and came back to New Life. The truck ride back was the longest contiguous ride yet. I took some footage of us riding back as we came into town.
We gave kyle a few more gifts and had some cupcakes (which I had managed to bring in my suitcase all the way from Montgomery's Publix.) We made our plans for the next day – which were mainly to try and make an effort to just relate to the community members and really speak the gospel into their lives.
So as we go out today, I ask for prayers – prayers that we will be bold, clear and have the Holy Spirit's words. I pray that the language barriers would not be a problem even as we speak to the hearing people in the community. Please pray that our last day with them would be mightily effective.
Comments
comments